Plaster Ring Assembly
May 1, 2017
Plaster Rings & Assemblies
Tripar is pleased to offer 6" & 8" Plaster Rings and Assemblies for OEMs to design and incorporate aluminum reflectors and LED downlight modules, suitable for new construction or remodel, non-IC accessible or suspended ceilings.
The plaster rings contain a 1-3/8" tall flange and three dual contact retaining springs to hold the Trim/Reflector securely to the finished ceiling, easily withdrawn for LED module replacement or painting. Compatible with ceiling thicknesses from ½" to 1-1/8".
The plaster rings also accept riveting of our;
1253-1 Sliding Brackets, offering 3" of vertical adjustment when coupled with our 1254 Butterfly Brackets1, or our 1054 Caterpillar Brackets2.
1232 series Junction Boxes, which include a variety of knockout holes (9/16", 7/8" and 1-1/8", all containing screwdriver slots), ground wire, and a snap-on cover retention spring. Measuring 4-3/4" wide x 3" high x 1- 3/4" deep, the internal volume is 25 in³, which may be increased approx. 50% by snapping on one of our 3D covers (1242-XXB), or doubled using our Extender Box 1232E; see http://www.triparinc.com/wp- content/uploads/2012/05/New-Product-Bulletin-Ext-Box-3-D-Cover.pdf .
1 – Butterfly Brackets 1254 permit multiple suspension means using our 1287 Bar Hangers, our 1487™ Commercial L- Bars, or alternate means of suspension (conduit, furring strip, C-channel, etc.).
2 – Caterpillar Brackets 1054 permit suspension via only our 1287 Bar Hangers.
Rigid design with all components made from galvanized steel. Parts may be ordered separately or assembled.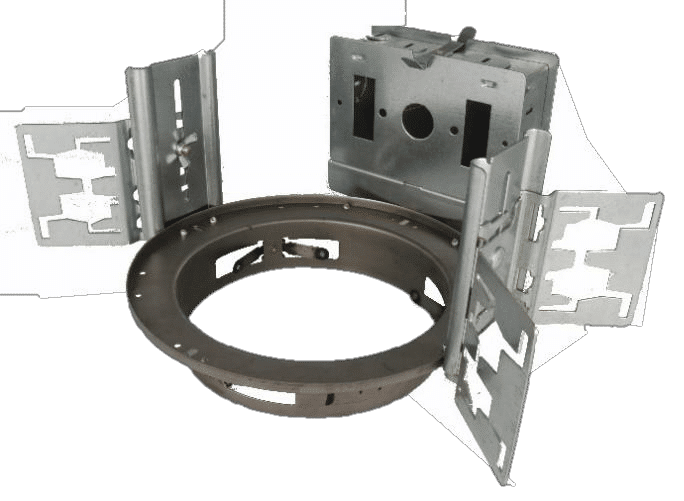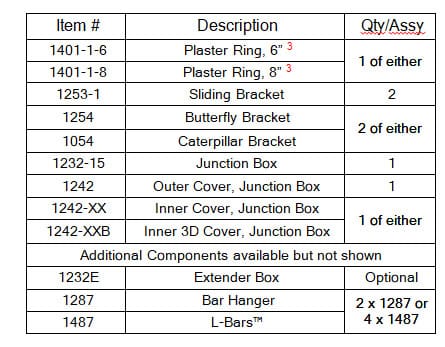 3 – 6" & 8" are nominal sizes; inside diameters of flanges are 1/8" less. All parts made in progressive dies for the most competitive pricing.