TriparTech: Galvanized & Galvannealed Steel 101
September 30, 2020
What is Galvanized Steel?
Hot-dip galvanized steel is carbon steel coated with zinc on both sides by the continuous hot-dip process, and is commonly available in sheet or coil form in a variety of thicknesses. The process results in a layer of zinc on each side of the steel that tightly adheres to the steel through the formation of an iron-zinc alloy bonding layer that is formed by a diffusion process while the heated steel strip is in contact with the molten zinc.

The coating is provided in varying thicknesses, classified in ounces of zinc coating per square foot. According to ASTM A 653/A 653M, minimum thicknesses can range from no minimum, G01, to 3.60 ounces/square foot, G360. The most commonly available zinc thickness from steel warehouses is the G90 designation or .90 ounces/square foot.
Other lighter designations such as G30, G40, and G60 are usually only available with a mill order. A mill order will carry a minimum quantity of at least 50,000 pounds, can have a lead time of  12 weeks or longer, and may result in a higher price than the current market for other coating thicknesses.  Since coating thicknesses are specified as minimums when G30 is specified, that = G30 or thicker. Though it would be rare to be supplied a G90 in place of a G30 as the G90 costs more to produce, supplying at thicker coating it is at the discretion of the supplier, unless otherwise specified…which may reduce availability.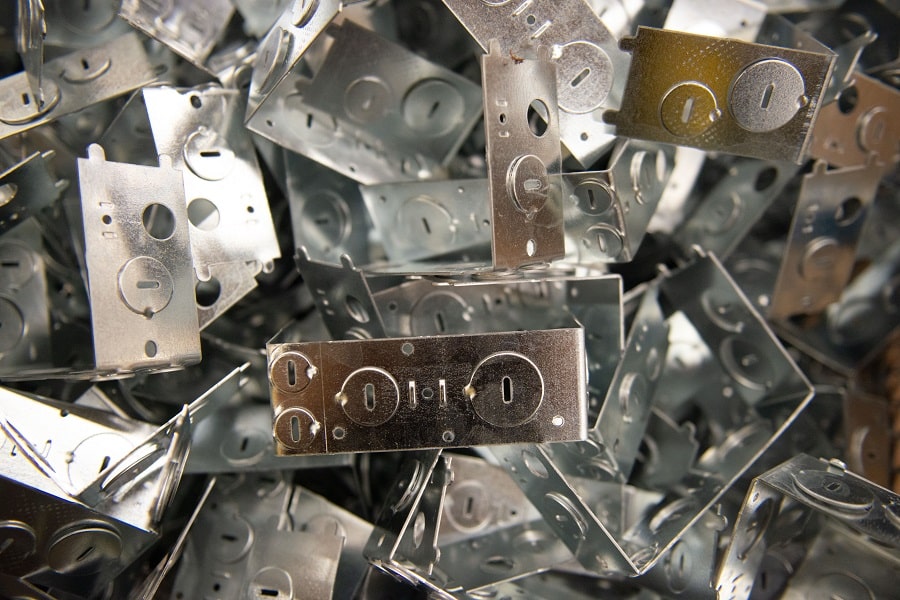 Coatings thicker than G90 can cause problems during a variety of part fabrication processes, including stamping, drawing, or spot welding as they tend to flake and cause build up in the tools or dies. During spot welding the coating must be burned off between the faces of the parts being spot welded to accomplish a good joint. This requires more power and time, as well as frequent dressing of the electrodes.
Galvanized steel is often used wherever there is a threat of corrosion for uncoated steel. Examples include:
The bottom skirts and panels of clothes washers that may be splashed with water. The presence of detergents and bleaches in the water may accelerate the corrosion reaction substantially.
Metal building roofing may be subjected to acid rain which contains sulfurous compounds that accelerate corrosion.
Of course, the very familiar corrosive reaction on vehicles in the presence of salt-containing road splash is well documented.
Embedded metal components in residences such as junction boxes or hidden lighting components.
Hot-Dip Galvanized steel lends itself to most fabrication processes; it can be roll- and brake-formed, lock-seamed, deep drawn, and stretched. It can be joined by various methods including riveting, clinch joining, and spot welding. In general, galvanized sheet can be handled and processed much the same as uncoated flat-rolled sheet although different setups for stamping, spot welding, etc. have to be developed. As a result, the designer and materials specifier have a good range of practical choices- the strength of the steel, its formability, corrosion resistance, and the fabrication and joining process- to match galvanized material to the end use.

In addition to barrier protection, zinc and zinc alloys have the ability to react at scratches and other damage such as a cut edge through an electrochemical (galvanic) action between steel and zinc. This galvanic action makes it possible for the zinc to protect breaks in the coating and prevent further damage.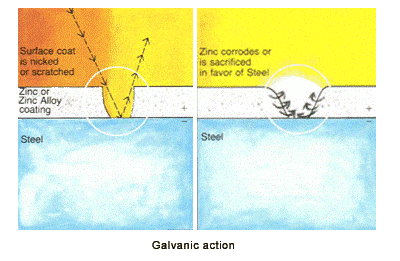 The photo shows what a typical galvanized finish used to look like over 30 years ago. It is typical of what duct work from a 30 year old house would look like. So, what happened to it? According to the GalvInfo Center:
"The spangle on hot-dip galvanized steel sheet had been its primary identifying feature for many years. The demand for both lead-free coatings and very smooth products has resulted in spangle size being reduced by many producers until it is no longer visible to the unaided eye. This was, and to some extent still is, of concern to certain segments of the marketplace, but most users of galvanized sheet have become accustomed to a product that does not have a large, easily seen spangle."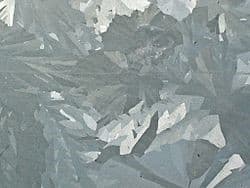 Today there are primarily three finishes as defined in ASTM A653/A653M.
Regular Spangle – zinc-coated steel sheet with a visible multifaceted zinc crystal structure. The cooling rate is uncontrolled, which produces a variable grain size.
Minimized spangle – zinc-coated steel sheet in which the grain pattern is visible to the unaided eye, and is typically smaller and less distinct than the pattern visible on regular spangle. The zinc crystal growth is arrested by special production techniques, or is inhibited by a combination of coating bath chemistry plus cooling
Spangle-free – zinc-coated steel sheet with a uniform finish in which the surface irregularities created by spangle formation are not visible to the naked eye. The finish is produced by a combination of coating bath chemistry, or cooling, or both.
As there are no specifications for galvanized sheet/coil spangle size, the photo shows what a 'Regular" spangle could look like today.

Due to the varied practices of different steel mills and contract sheet and coil galvanizers, it is impossible to guarantee 'color matching', hue, and grain size of hot-dipped sheet and coil. ASTM A653/A653M does not have an appearance specification other than spangle size when ordering.
This is galvanized coil that is has its zinc coating immediately subjected to a to an in-line heat treatment upon exiting the coating bath. This converts the entire coating to a zinc-iron alloy, whereby the iron diffuses from the steel into the coating. The galvannealed surface has a non-spangled matte finish; a finish very different than the highly metallic appearance of the galvanized coating. At times, the galvannealed coating may appear similar to uncoated cold rolled steel.

One of the primary attributes of the galvannealed coating is that the surface accepts paint very readily. It can be painted without the application of a pretreatment, although a pretreatment will enhance the performance after painting.
Other attributes of the galvannealed coating versus a galvanized coating include:
The zinc-iron alloy coating can be welded more easily than galvanized.
The coating is harder than a galvanized coating, thus is more resistant to scratching and manufacturing damage.
Since galvannealed product is intended to be painted, a thinner zinc coating can be successfully applied to provide long product life. Additionally, the coating is less reactive when exposed to the atmosphere, and as a result, the dissolution that occurs during corrosion occurs more slowly than for a galvanized coating. Thus, the coating does not have to be as thick as a galvanized coating to provide the same level of protection.
The down side of galvannealed is that because of the extra heat treatment process, it is costlier than hot-dipped galvanized sheet. During fabrication, there is almost always some degree of powdering of the coating. Heavier coatings will exhibit more powdering. For this reason, typical galvannealed coatings are thinner than most galvanized coatings. However, because the coating contains iron, typically from 8 to 11%, it tends to exhibit a slight reddish-orange appearance when exposed to moisture in the unpainted condition.

Hence, unless the product is to be painted, galvanneal should not be specified unless absolutely necessary.
Generally, neither galvanized or galvannealed steels are available or required with a plastic or other film due to their inherent protection. Some fabrication processes (such as stamping, forming, and drawing) require a lubricant. This is typically a water soluble "vanishing" type lubricant that will evaporate, leaving only a light waxy, but otherwise dry film.

Further information may be obtained from the Galvinfo Center website.