The Benefits Of Having A In-House Toolroom
While submitting an RFQ, customers and prospects often ask if the die is made in Canada. Currently, Tripar owns 1,600 dies. The overwhelming majority are "open tooled" dies (available for all customers' use) which were all designed and fabricated at our facility.
Thanks to our in-house toolroom, we can also assist during modifications and maintenance to accurately and efficiently meet all needs and requirements. We're very proud to offer this service in North America. Our toolroom team is highly skilled and designs the dies respecting the limitations of our capabilities along with the specification of the customized item. If this cannot be achieved, we propose our own design to match & offer the best solution.
What Is The Stamping Process?
The die is a fundamental element of the metal stamping process. Metal stamping involves placing a high-quality piece of sheet metal, in either coil or blank form, into a metal stamping press. While in the press, a tool and die surface form the metal into the required shape. Some of the more common stamping techniques include:
punching
blanking
bending
forming
drawing & deep drawing
coining
embossing
flanging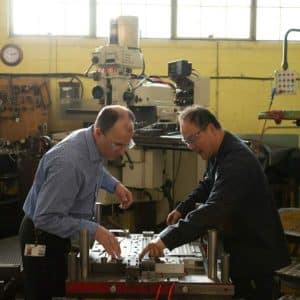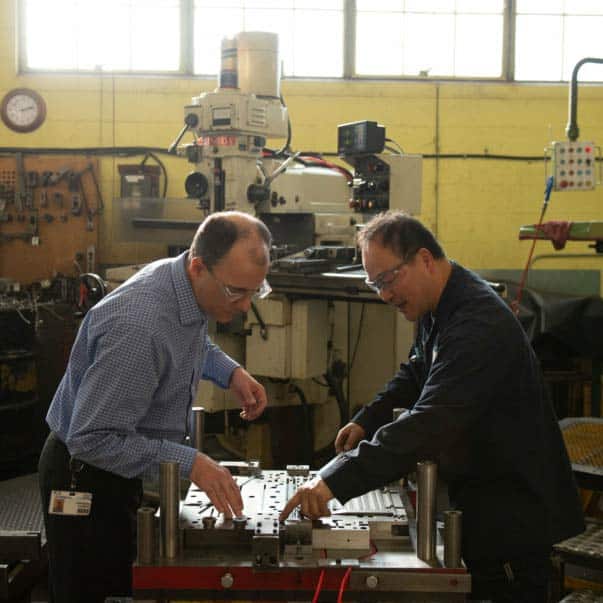 All of the above are used to shape the metal based on the design, for which die design and build is carried out using CAD/CAM engineering technology.
Advantages Of Metal Stamping
Metal stamping is a low-cost high-speed manufacturing process that is able to produce a high volume of identical metal components and is suitable for medium to long production runs. The benefits of stamping include:
Cost efficiency
Lower secondary costs (e.g., cleaning and plating),
Faster production rates as compared to CNC fabrication processes
Greater precision & accuracy
Reduced labour time
Disadvantages Of Metal Stamping
The disadvantages of stamping include:
Longer lead time to design & build the die, thus,
Longer lead time for the first production run
Die maintenance may be required during the various production runs
It is important to know that for customer-owned dies (that which a customer initially paid for), Tripar maintains the die for life, or for as long as that customer keeps ordering parts that use it. Such maintenance is normally sharpening, or repairing a broken punch should that occur, but also applies to any catastrophic failure. In fact, the only time a customer will know of die maintenance or repair is if it is of such a nature that may delay a shipment. We will of course work with that customer to alleviate as much inconvenience as possible.
Tripar's Internal Process And In-House Toolroom
Tripar has an internal process to quickly react to any production issue. Indeed, having an in-house toolroom allows us to always be on top of any problems that may occur, supporting production efficiently & quickly.
If a die goes down, whether the repair requires sharpening, machining of a new die component, heat treating, or wire EDM cutting (an ultra-precise CNC machine process that can cut hardened die components), we are in full control as to what priorities these take, without having to rely on subcontractors, their schedules, and lead times.
We invite you to read our TriparTech if you'd like to discover more about the following subjects: