United States-Mexico-Canada Agreement (USMCA) Impacts Canadian Metal Stamping And CNC Fabricators
The United States-Mexico-Canada Agreement (USMCA), which went into effect in 2020 replaced the North American Free Trade Agreement (NAFTA). NAFTA had largely eliminated tariffs on trade between the three North American countries, and the USMCA not only preserves free trade but also updates the rules to accommodate changes in the world since NAFTA went into effect in 1994. 
Canada exports $319.4 billion worth of goods to the US each year and imports $293 billion worth of goods. That's more than the next 11 trade partners combined, so it was essential to allow the trifecta of countries, including metal stamping and CNC fabricators to compete in the North American market. In total, two million manufacturing jobs alone depend on North American trade.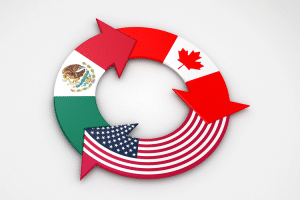 The Impact US Tariffs Have On Steel And Aluminum Imports
It is important to note that the tariffs that the US imposed on steel and aluminum imports from sources outside the USMCA countries in 2018 (as part of Section 232 of the Trade Expansion Act) is evolving.
As of Jan. 2022, the EU is exempt from these tariffs and the US and Japan are in discussions about removing the tariffs. As such, it is important to monitor these tariffs and potential knock-on effects for USMCA manufacturers.
Metal components are required for a wide range of industries including Lighting, HVAC, Automotive, Consumer Electronics and Aerospace. Therefore, USMCA allows for Canadian sheet metal fabricators and metal stampers to source the raw materials in North America, manufacture a product and then ship the finished product to the U.S. or Mexico without tariffs.