The two main operations required to fabricate any part from sheet metal are:

1. Cutting the flat development
2. Forming if/as required

The two operations are traditionally made with a stamping press using custom, or hard tools ("dies"). The biggest limitation is the investment of many thousands of dollars to make the required die(s), which can usually only be justified with high volumes of parts or a long lifecycle. As such, a common alternative solution is to cut the sheet metal parts via CNC laser, and/or a CNC Punching press, often followed by bending, forming, or other secondary operations.
Laser machines are used to cut through, vaporize, or etch sheet metal parts. The main advantages of the laser cutting process are:
• Flexibility
Laser cutting does not require tooling (punches & dies) nor an exchange of tools for each separate cut. The same setup and singular tool (the laser beam) is used to cut different shapes regardless their degree of complexity.
• Precision
±0.005" is easily achievable.
• Detail
Cuts as fine as the laser beam width are possible; as low as 0.012", depending on material thickness.
• Repeatability
Once created, a CNC Program can be reused as required.

• Speed
Laser cutting is often quicker than most traditional mechanical cutting methods, especially in the case of more complex or irregular cuts.
• Automation
Even though a qualified laser machine operator is still required to run the appropriate setup tasks, modern laser cutting machinery is highly automated, with some machines equipped with automatic sheet feeding and part removal systems.
• Quality
Laser cutting leaves very clean cut edges with only a small burr, resulting in consistent parts.
• Contactless.
During laser cutting, there is no mechanical interaction between the machine and the part as only the laser beam comes near the material surface.
• Versatility.
Laser cutting is suitable for wide variety of materials. One machine can be configured to perform different jobs.
Although the above lists numerous advantages, standalone laser cutting machines have some limitations.
• Only flat parts - 3D formed features (e.g. small bends, lances, extruded holes) cannot be made with a laser machine. For parts having such features, secondary operations are required, increasing the part unit price.
• Cutting gas cost - During laser cutting process cutting gases such as N2 & O2 are consumed which raise the operation cost.
CNC punching machines are used to pierce holes through sheet metal using punching tools (relatively simple punches & dies). The holes could have regular shapes such as round, square, rectangular, obround, or any other irregular shape, and can usually be indexed through 360⁰ to obtain the desired orientation. The outer contours of the parts can be nibbled or in certain cases processed using slitting tools.
Advantages of CNC punching include:
Increased Productivity
Once a CNC program has been created, it can be used over and over again – This repeatability increases productivity by removing technical and labor intensive manual processes.
Speed and Accuracy
This automation and repeatability also make this method fast, no matter how complex the design, the overall production time is reduced. Accuracy is not compromised either, in fact CNC machines are commonly used for the most precise and complicated shapes.
Efficiency
CNC punching machines reduce the amount of waste that is produced whilst being fast and accurate.
Quality
With internal quality detectors installed in many machines, when a deficiency is detected, the machine will stop punching to avoid any further out of tolerance conditions and wastage.
Safe and Cost-Effective
As the waste is kept to a minimum, this saves cost in the long run. Also, as the entire process is automated, the operator is kept safe providing a hazard-free environment. Machines with sheet loaders reduce labor even further, as the machine can draw the next sheet as each sheet is completed.
Range of features
In addition to piercing, a wide range of formed features may be achieved, such as, louvers, lances, dimples, bends, extruded holes, threads, countersinks, hinge knuckles, and so much more.
One tool for one hole - Each different size hole or feature requires a specific punch & die which makes the setup process longer and can increase both tooling and part fabrication cost.
Detail - Hole/slot sizes typically cannot be less than the material thickness.
Irregular edge on part contour - Even though the punching method allows for faster cutting, perfectly smooth and regular edges may not be realized due to small marks left along the cutting path during the nibbling process.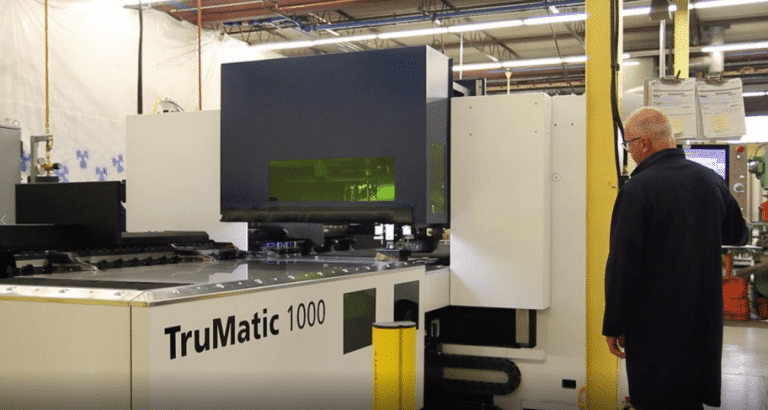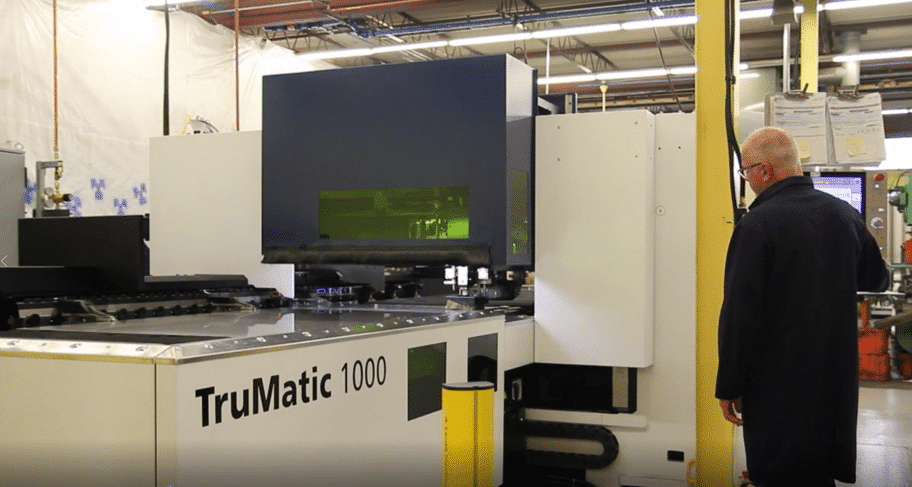 CNC Punch/Laser combination
The punch/laser combination machine commonly referred to as a "Combo machine" contains two heads; one for laser cutting and the other for punching. Both heads can operate alternately as needed. The Combo machine brings together the advantages of both CNC punching and laser processing, in a particularly cost-efficient way. It enables parts with a wide range of features to be performed in a single operation and set-up, successfully producing even the most challenging parts.
Two technologies in one machine
With a Punch/Laser Combo machine, you benefit from all the advantages of CNC punching and laser cutting. Punch holes, bend flanges, part mark, countersink, counterbore and stamp forms such as louvers, and hinges – and cut – all in one machine.
Less material handling
The combination of the two processes in the same machine eliminates the need for the part to move from one machine to another; an exercise which not only adds labor, but can lead to inaccuracy due to sheet or part misalignment.
Exceptional, efficient part quality
The punching head performs standard contouring and forming tasks, while complex and large contours may be laser cut for exceptional part quality, and reduced labor and non-productive time.
360° tool rotation
Every tool can rotate 360 degrees which means greater tool versatility and less tooling to maintain.


In summing up the benefits of the three different options: standalone CNC Laser, standalone CNC punch and CNC Punch/Laser combination machine, the latter option is usually the winning choice because it;