We are pleased to introduce two product enhancements related to some of our junction boxes.
AT Extender Box – Junction Box Extender for Airtight I.C. Boxes
Since 2007, we offer our Extender box (1232E) to double the internal volume of our 1232 series non-airtight junction boxes. We have recently modified the junction box used on our Airtight I.C. Boxes, to similarly allow multiples to be secured together, offering the same volume increase feature.
To use these Extenders, like always, two #8-32 self-tapping screws are installed into the cover mounting holes (but only partially and without any cover in place).
A second identical J-Box = our AT Extender Box, item # 1281-92-1 (or 1481-92-1 for our new line of Airtight IC Boxes with Junction Box 70), is then joined by rotating it so the (new) angled slots on the rear face engage under the heads of the partially installed screws. These screws may then be fully tightened, securing the AT Extender Box to the base J-Box.
Please click here for our regular size AT Extender Box 1281-92-1.
Please click here for our large AT Extender Box 1481-92-1.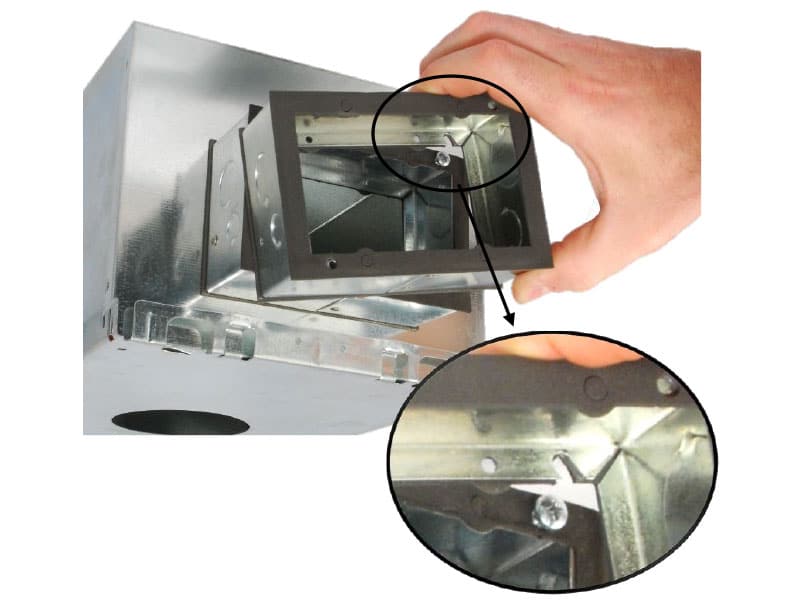 Triparloc™ – Junction Box Locking feature
All of our junctions boxes that contain our snap-on cover retaining spring* will have the new Triparloc™. This is the addition of a small hole adjacent to free end(s) of the spring, into which a #8-32 self-tapping screw may be installed, providing for permanent or tamper proof assembly.
The head of the screw prevents the spring- release, locking any of our covers; flat, 3D & Extender Box. This can be also be useful when mounting a heavy driver to the cover to prevent accidental separation.
*Includes our #1062, 1232 & 1247 series junction boxes, 1232E Extender Box, 1410 & 1420 series Universal Driver/Junction Boxes, and any junction box that comes mounted to our 1241 series plaster frames.