Reduced ceiling space + little thought for downlighting requirements = Need for lower profile IC boxes.
Responding to ever-reducing height requirements, we are pleased to introduce our lowest height Airtight IC Box yet; our Mini at only 2-1/4" tall. Like our Ultra Shallow (3-1/2" tall) IC Box1, this one also measures 9-5/8" long x 8-1/2" wide. Fitted with our 1286 series plaster frames, the overall footprint remains the same as the plaster frame; 11-3/4" long x 8-1/2" wide. With the box sealed using the same proven methods as all our AT series IC boxes (all joints caulked), and our AT series plaster frames (gasketed underside where it mates with the IC Box), the same restricted airflow performance is obtained (<2 cfm).
The Mini I.C. Box comes with the Slim Airtight Junction Box (also available on its own; #1781-92-1 measuring only 2-1/8" tall x 5-7/8" wide x 1-7/8" deep (21 cu.in.)2, offering two significant benefits;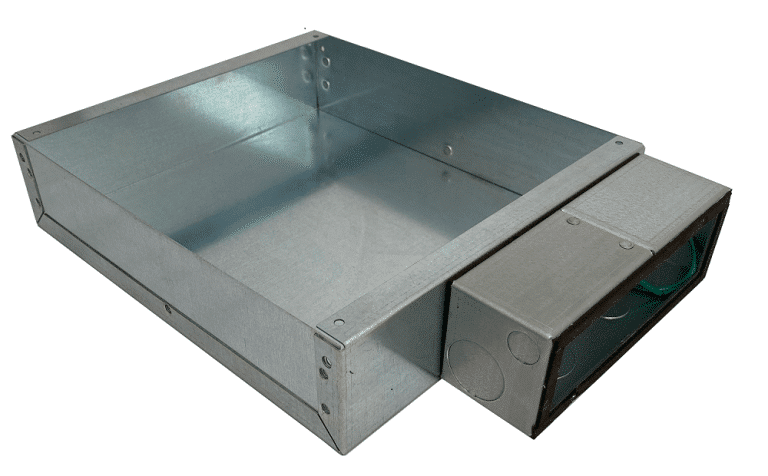 5-7/8" length allows for installation flexibility of long drivers, and,

2-1/8" cover height allows for withdrawal through small ceiling openings!

1 In May 2019, we introduced our Small Ultra Shallow I.C. Box (3-1/2" tall), available in both Chicago Plenum, and Ultra-Airtight versions; please click here. These contain our standard airtight Junction Box (1281-92-1, measuring 3-3/16" tall x 4-7/8" wide).
2 Like our other Airtight Junction Boxes, this may be coupled/stacked together for volume expansion; please click here.

To obtain more information please contact our Sales Team at Sales@TriparInc.com.