Do you have a project in mind but not sure what tolerances to use? Don't worry we got you covered. Here's a overview that you can use to build your product.
In the absence of the client providing a drawing with agreed upon tolerances, the part(s) shall be manufactured as the per client's supplied CAD model, with the following Tripar default manufacturing tolerances: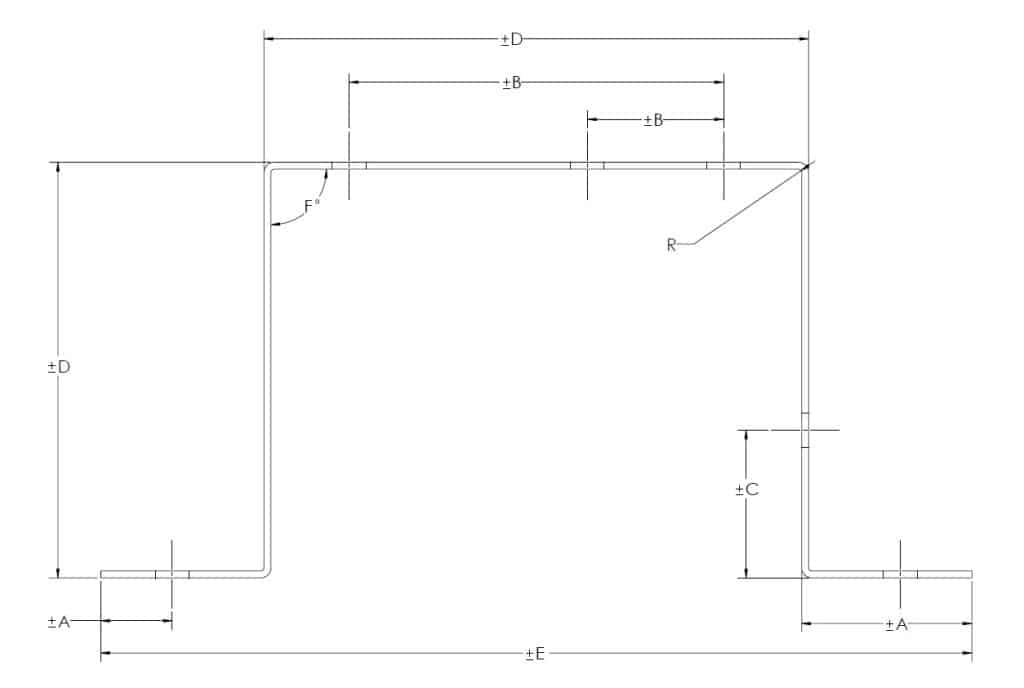 The sketch above is for illustrative purposes only. 
Table 1. Default Tolerances
DIM
Tolerance (" ±)
Description
±0.010"
Holes1 & linear dimensions of flat pieces < 0.5"
±0.015
Holes1 & linear dimensions of flat pieces 0.5"< 4.0"
±0.020
Holes1 & linear dimensions of flat pieces 4.0" < 12.0"
Upon Review
Holes1 & linear dimensions of flat pieces > 12.0"
A
±0.010
End to hole or bend
B
±0.010
Hole center-to-center (on one surface/plane)
C
±0.015
Bent edge to hole2
D
±0.020
Distance over 2 bends2
E
Undefined (TBD)
Distance over 3 or more bends2
F
± 2°
Angles3
R
1-2X Material thickness
Inside bend radii
1 If the hole is not round, the above ranges apply to the largest dimension in the opening.

2 As measured nearest to bend(s). 
3 Thin metals have some flexibility, and thus can deflect, even under their own weight. As such, tolerance applies up to 1" from the bend. For reference; 2° over 1" = .034". 
For those who provide, or are considering providing their own tolerance drawings, please see the following two TriparTech article on this subject, as well a sound sheet metal design practices; 
Surface Finish:  Shall be in accordance with material specified and associated governing specifications. 
Formed or bent parts may have small surface blemishes near the areas of transition. 
Residue: Metal fabricated parts are often produced and may be shipped with lubricants or dry film lubricants. 
Protective Film: For raw materials which come with a protective film, parts shall be provided with this film, to help protect the parts until you, the customer remove when desired.
Small burrs are an inherent part of metal stamping & fabrication processes. Being nearly impossible to quantify & measure, unless otherwise specified parts are provided in their "as stamped" or "as fabricated" condition.