New Product Bulletin – Single Ceiling I.C. Boxes
We are pleased to introduce an updated design to our proven lines of galvanized I.C. Boxes – available in both Chicago Plenum and Ultra Airtight (<2 CFM airflow). Made of the same .027" min thickness steel to comply with UL1598, these offer the following advantages:
Increased inside height: With two side panels replacing the double ceiling construction of its predecessor, these maintain the same outside dimensions while offering an additional ½" inside height.
Improved heat dissipation: With single-ceiling box construction (instead of two), heat dissipates easier. However for even greater heat dissipation, check out Tripar's new range of Black I.C.Boxes…
Both the existing Double ceiling and the new Single Ceiling I.C. Boxes will remain available. However certain versions of these new Single Ceiling I.C. Boxes will be stocked by Tripar, resulting in better pricing due to economies of scale, and shorter lead-times.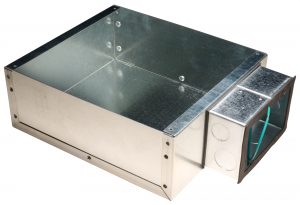 Also available with large (70 cu.in.) J-Box, please click here to read the Product Bulletin.
Intertek I.C.Box air leakage report:
To obtain more information please contact our Sales Team at Sales@TriparInc.com.